Zestaw Explorer - Mikroskop Biolife + DODATKI
Tylko kupując mikroskop Biolife w specjalnym zestawie Explorer, otrzymujemy kompleksowy pakiet akcesoriów niezbędny do rozpoczęcia zabawy z obserwacją, a wszystko to w niesamowicie atrakcyjnej cenie!
Zestaw Explorer zawiera:
- Mikroskop Biolife
- Okulary: WF16x
- Obiektywy: 4x, 10x, 20x, 40x
- Pokrowiec
- Walizka
- Gotowe preparaty mikroskopowe
- Czyste szkiełka na preparaty
- Zestaw narzędzi laboratoryjnych
- Obiektyw do mikroskopu 100X
- Okular cyfrowy
- Okular Mikroskopowy WF 15x
- Okular Mikroskopowy WF 10x
- Preparaty biologiczne - BOTANIKA
Zaawansowany i nowoczesny mikroskop dla wymagających użytkowników, przeznaczony zarówno do zastosowań amatorskich jak i profesjonalnych.
Mikroskop oferuje powiększenie w zakresie 102x-1024x. Wyposażenie standardowe obejmuje: soczewkę Barlowa 1,6x, rewolwer obiektywowy (miskę obiektywową) z 3 obiektywami o mocy 4x, 10x oraz 40x. Instrument posiada obrotową (360°) wieżyczkę okularową.
Mikroskop został wyposażony we współosiową śrubę makro- i mikrometryczną zapewniającą niezwykle precyzyjne i wygodne ustawianie ostrości.
Urządzenie posiada wbudowaną specjalistyczną lampę do podświetlania preparatów o płynnej regulacji intensywności oświetlenia (w zestawie dołączany jest zasilacz sieciowy) oraz dodatkowe kierunkowe górne oświetlenie, umożliwiające obserwacje próbek o małej przeźroczystości.
Stolik podstawowy posiada przełączaną diafragmę zapewniającą wysokiej jakości kontrastowe obrazy, oraz precyzyjne ruchome mocowanie próbek ze skalą. Dzięki czemu zawsze możemy powrócić do oglądania preparatu od miejsca gdzie ostatnio zakończyliśmy pracę.
Korpus oraz kluczowe elementy mechaniczne urządzenia są wykonane w 100% z metalu.
W skład zestawu wchodzą gotowe preparaty, które można obserwować natychmiast po wyjęciu z opakowania.
Opticon Biolife umożliwia także prowadzenie normalnych obserwacji wizualnych. Mikroskop ten doskonale sprawdzi się na biurku ucznia, jako serce domowego laboratorium młodego naukowca, a także w pracowni zawodowego botanika lub weterynarza. Biolife jest dobrym wyborem bez względu na to czy zamierzasz przeprowadzać szkolne doświadczenia, czy wykonywać fachowe ekspertyzy próbek.
Najwyższej klasy optyka, oparta o starannie wykonane soczewki ze szlachetnego szkła, gwarantuje jasne, wyraźne i kontrastowe obrazy mikroświata. Instrument jest kompatybilny ze standardowymi okularami i obiektywami mikroskopowymi, co umożliwia jego łatwą rozbudowę. Opticon Biolife to instrument na lata, zaprojektowany z myślą o tysiącach godzin pracy, nauki i zabawy.
Urządzenia optyczne marki Opticon wykonane są z przetestowanych, bezpiecznych materiałów. Sprzęt objęty jest pełną dwuletnią gwarancją producenta.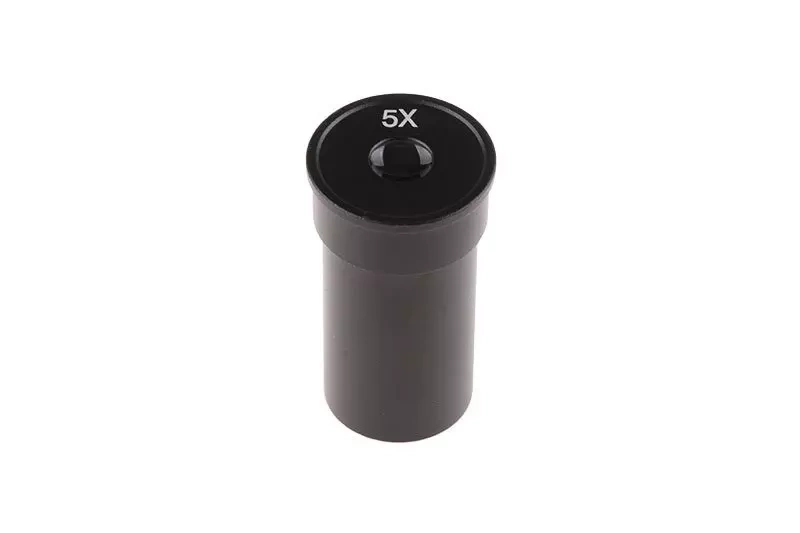 5x Microscope Eyepiece
Zoology